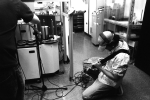 The new Amon Tobin album "The Foley Room" is scheduled for February / March 2007.
Some info about the album, photo's and a small sound clip are available at Amon Tobin's MySpace site: http://myspace.com/tobinamon
It will be released in 3 different formats: CD, DVD and 2LP. The exact tracklisting for each release is not yet known.
Tracks:
1. Bloodstone [sample]
2. Esther's [sample]
3. Keep your distance
4. Vanilla's the killer [sample2]
5. Kitchen sink
6. Horsefish
7. Foley room
8. Big furry head
9. Ever falling
10. Always
11. Straight psyche
12. At the end of the day
Cat# LP: ZEN121, CD: ZENCD121, DVD: ZENDV121
Unknown: [sample]