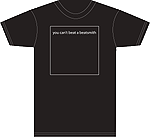 Till 31 August 2006 designers and fans can join the Amon Tobin T-Shirt Design Contest. A design should include the Amon Tobin logo and the quote: "you can't beat a beatsmith". Everything else is up to your imagination!
Just be creative and design a cool looking T-shirt. Max 4 designs per artist. A week after the deadline of 15 August, a winner will be announced. The winner can add his or her own tag on the T-shirt and will receive all of Amon Tobin's albums on cd or vinyl (your choice) including Cujo's Adventures in Foam and a copy of the rare and infamous breezeblock mix as performed by Amon Tobin for UK's radio 1.
The deadline has been moved to 31 august (the previous one was 15 august).
Complete details can be found on Amon Tobin's managements website