Note: the record rack design & instruction are copyright by Pe7er. You are encouraged to use the instructions to create your own record rack. Please try this at home, but at your own responsibility! Please let me know when you have built it....
Requirements:

Material: 8 pieces of wood (slats, pinewood is alright and cheapest kind of wood,): thickness: 6 mm, width: 18 mm, length: 96 cm. (cheapest way: buy 4 pieces 2-meter slats, and saw it down to 96 cm).
Tools: Wood glue (preferably fast drying), Saw, Drill, some Glueing Clamps, 6 Screws + Plugs (for hanging on the wall), and if possible: a "90 degree Angle" measure tool can be useful for getting perfect 90 degree corners.
1. Saw the pinewood down to 8 pieces of 96 centimeter. Put 4 pieces (of 96 cm in length) in horizontal position on the floor. These horizontal slats will eventually carry the records.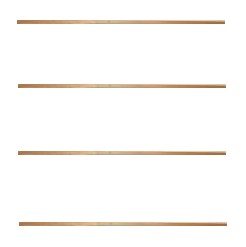 2. Put 2 slats in vertical position at the sides onto the 4 horizontal slats. Make sure that the horizontal and vertical slats form a 90 degree angle. Glue the corners and clamp the pieces of wood together with the glueing clamps. The 2 horizontal slats in the middle should divide the square into 3 equal squares. The distance between all horizontal slats is about 29,6 cm. Glue the vertical slats onto the underlying middle horizontal slats and clamp together with the glueing clamps.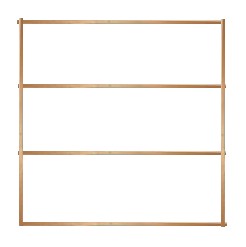 3. Put the 2 vertical slats onto the rack, make sure that the distance between all vertical slats is about 29,6 cm. Glue and clamp the vertical slats onto the horizontal ones and glue & clamp all joints.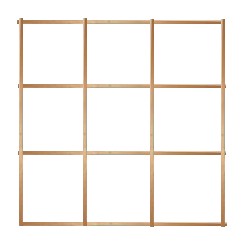 4. Drill 6 holes in the underlying horizontal slats in the positions as in the photograph above. These are the holes where the rack will be fixed to the wall. Drill 6 holes into the wall at the same position (use the rack as template) and use the 6 plugs. Attach the rack on the wall with the 6 screws.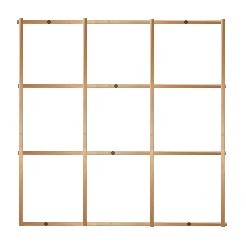 5. Now the rack is ready for use. Take 9 of your nicest record sleeves from your collection and shove them into the rack.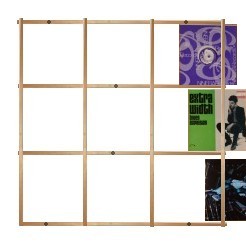 6. Finished....
BTW: Please let me know when you used the instruction to create this record rack yourself :-) PS: So you are curious about the records in my rack on the left? Well, currently my record rack is probably filled with other records, but on the photograph you might distinguish: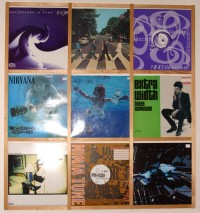 Top Row (left to right):
Cujo - Adventures in Foam (Ninebar UK version)
The Beatles - Abbey Road
Cujo - On the Track 12" EP (Ninebar UK version)
Middle Row (left to right):
Nirvana - Nevermind Sessions (unofficial bootleg LP)
Nirvana - Nevermind
The John Spencer Blues Explosion - Extra Width
Bottom Row (left to right):
PJ Harvey - 4 Track Demos
Ninja Tune 2 track Promo 12": DJ Food - Spiral / Herbaliser - Get up for the get down (The B-side is empty but it has a very nice engraved Ninja Tune Promo Logo)
Amon Tobin - Verbal 12"